How to get to Sneakers Street from
Ladies Market
The famous Ladies Market of Mongkok is just around the corner from Sneaker Street, in fact you probably passed it on the way here. So don't miss this chance to combine both sports shoe shopping and discount accessories in one trip!
Ladies' Market is a section of Tong Choi Street, just as Sneaker Street is a section of Fa Yuen Street, and like Sneaker Street it isn't the official name of the road. But it is such a well known term, both in English and in Cantonese, that there are even "attraction" signs on the road pointing to it.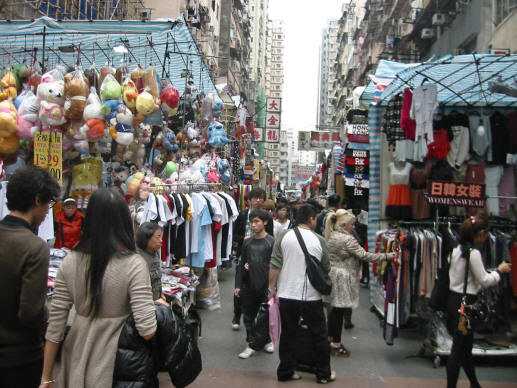 Unlike Sneaker Street the action on Ladies' Market is more about street stalls, though there are shops lining the road behind the stall, it is on the stalls themselves that most of the great finds are to be had. The road is blocked off from traffic for most of the day and is an official pedestrian area so it is safe to walk in the middle of the street while browsing the items on offer.
Anywhere on Ladies' Market take a turning towards the east.
If you have reached the southern end, and are abutting Dundas Street, then simply come out onto Dundas, turning left, so the hospital is on your right, and walk along one block. Turn left into the first street which will be Fa Yuen Street or Sneaker Street.
Starting at the northern end of Ladies' Market, where it reaches the main road at Argyle Street, then turn right onto Argyle and walk one block. Turn right again into Fa Yuen Street and this is the northern end of the Sneaker Street.
On any other cross street such as Nelson, Shan Tung or Soy simply turn away from Nathan Road, that is Away from the MTR, and walk one block to find Sneaker Street.
Other directions: