How to get to Sneakers Street from
Nathan Road
Nathan Road is a broad and straight thoroughfare runs which north to south and dissects the whole of the Kowloon peninsula. Running from near the Victoria Harbour, right outside The Peninsula hotel on at the corner with Salisbury Road, it runs north all the way to Boundary Street, once the Boundary of British colonial Kowloon before the lease of the "New Territories". Today it is an always busy road for both traffic and pedestrians, running through a variety of popular shopping districts, with commercial and residential towers standing tall all along the road. Each part of the road has a different flavour and you can go from the highest end branded shopping through to the cheapest of knock-offs all on the same road.
Hotels, tourism and dining are also important parts of Nathan Road so any visitor to Hong Kong will doubtless spend time traversing the avenue whether or not they are actually staying on one of its hotels. From authentic Cantonese Dim Sum restaurants, through curries and Halal food created by and for the ethnic minorities who have settled here, through to modern Asian influenced snack shops offering Japanese, Korean and regional Chinese specialties this is also a place to come to eat.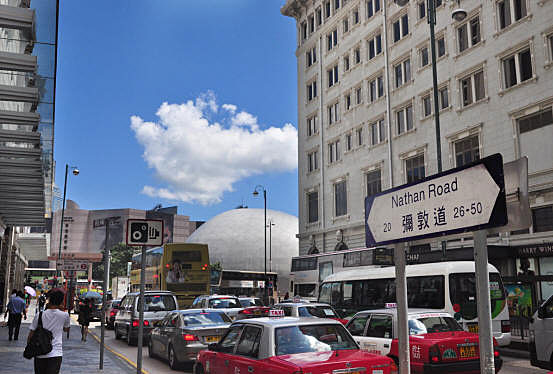 One part of Nathan Road runs parallel to Sneaker Street, the section from Argyle Street to Dundas Street, and is only three short blocks to the east. When starting in the southern or northern parts of Nathan Road, however, either a substantial walk or public transport are recommended.
Here are the main options:
Option 1 - Walk
It is a short walk if start somewhere on Nathan Road between Mong Kok MTR station or Yau Ma Tei MTR station. Take any of these turnings from Nathan Road, in each case walking eastwards.
Argyle Street: Walk 3 blocks and turn left
Nelson Street: Walk 3 blocks, which will have some shoe shops already, and at the third turning the majority of the shoes are on the right
Shan Tung Street: Walk 3 blocks and you are near the middle of Sneaker Street
Soy Street: Walk 3 blocks and most shops are on the right
Dundas Street: Walk 3 blocks and turn right, the whole road is now ahead
It is an easy walk to Sneaker Street from anywhere on Nathan Road, but longer if you are in the southern Golden Mile near Victoria Harbour. If walking from the beginning of Nathan Road takes about half an hour. The turning into Dundas street is signposted, it is a turning on your right as you walk northwards along Nathan Road. Then the 3rd turning on the left is Fa Yuen Street, and immediately even in the first streets you will start to see the varied sports shoe shops that make the area famous.
Option 2 - MTR from TST
Starting on Nathan Road in Tsim Sha Tsui, along the Golden Mile near Victoria Harbour, or other more southern parts of Nathan Road it is best to use some public transport to get closer before walking. Save some walking and take the MTR , as the main MTR line runs under Nathan Road you can take it quickly to a place close to Sneakers Street. For example get on the train at Tsimshatsui MTR Station and take the Tuen Wan Line towards Tuen Wan until you reach Mongkok MTR Station.
Enter the MTR system at Tsim Sha Tsui station
Take the Tsuen Wan or "red" line northbound toward Tsuen Wan
Leave the train at Mong Kok MTR station
Exit the MTR station via Exit E2. Follow signs for "Exit E" until the path splits and take "E2".
At the road level walk directly forward, taking care of traffic on cross streets
Walk on Nelson for two blocks to reach Fa Yuen Street, or Sneaker Street
At this point there is one block of shops to your right, and three blocks to your left.
Alternatively, to start at one end of the road, exit from the station via exit D3. Come out of the station at street level and turn around 180 degrees and walk to the main road, this is Argyle Street. Turn right onto Argyle Street and walk two blocks. The second turning on your right is Fa Yuen Street, just at the northern end of the Sneakers Street section.