Fa Yuen Street Market Stalls
While "Fa Yuen Gai" (花園街) is mostly known for it's sneaker and sports shops there has been a street market here for many years and it is for the market stalls that many people visit.
Extending from Mongkok MTR to Prince Edward Road these officially licensed stalls open every day and sell a wide range of goods, from clothing through to fresh food. Most of the action is in the stalls which form a double line down the centre of the street, though the shops in the buildings that line the street also contain great deals.
Ladies and gents casual and formal clothing. Plenty of t-shirts, hats, belts, leggings and the like. Mobile phone accessories are also popular as are small electronic appliances such as watches and clocks.
Stalls with fresh fruit and vegetables intermingle with the clothing and other items. The road passes several street corners and as these are not pedestrian ways please take care when crossing the road.
As this market is mostly used by local residents it is lacking in tourist souvenirs, but may offer some lower price items as well. If you want some simple pajamas, extra underwear, shoulder bags or handbags, then this is the place for you. Many stalls sell seasonal items, so in winter you will find blankets and bedding on sale, while the same stall may have summer t-shirts at another time of the year.
Opening Hours
Most stalls will open at 10am or 10:30am.
Not all stalls are open at all times, particularly in the evening as it gets later some start to close but there will be still a variety of items to choose from until at least midnight except when the weather is very bad.
How to get there
Fa Yuen Street actually stretches from Dundas Street through to Prince Edward Road, however as explained elsewhere it is the southern section which is sneaker street, while the northern part is the Fa Yuen Street Market Stalls.
It is very convenient to reach the street market via the MTR, all you need to do is go to station Mong Kok on the Tsuen Wan Line line. In order to find the market easily make sure that you leave the MTR station by Exit B3. When you reach road level there is immediately in front of you an escalator onto a walkway, take these steps up to avoid the crowded streets.
Walk forward until you are above Mongkok Road and turn right, eastwards, and follow the elevated walkway until you can see the market street to your left hand side as pictured here. Then take the next staircase down to road level to join the market and browse along it.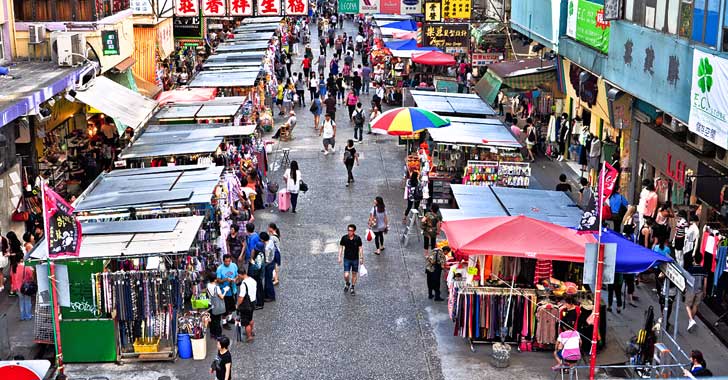 Fa Yuen Street Wet Market
As well as the street market stalls there is also a Wet Market in the Municipal Services Building at number 123A. This large complex contains a number of government provided services including an indoor sports centre, and a public library which has free wifi. Of more interest to visitors is the cooked food centre and the wet market which sells both fresh and dried foods. It is a great inside into the daily shopping habits of the locals to visit and browse this market, you'll find it busiest in the early morning and middle of the afternoon, while lunchtime is quiet.
Inside the wet market building you will find open air butchers with beef, pork and sometimes mutton. Beside these are the seafood stalls which have chilled fresh fish on ice as well as still swimming fish and shell food. Dry good stores in the market sell dried and preserved foods including sausages, shellfish, eggs both fresh chicken eggs and preserved duck eggs.
Cook food vendors have roast pork and various cuts of chicken available to take away. Chicken is available in a variety of different styles from plain steamed to soy sauce marinated. Tasty marinated chicken wings and a variety of offal are also popular. The small roast birds you may see are pigeons, not wild but farmed. Although they appear roast they are in fact deep fried and have a dark rich meat. Roast duck and roast goose are also very popular and selected for their smooth tasty skin and succulent meat. The ducks and geese are well cooked as are the soy sauce chicken however the steamed chickens may be considered very slightly undercooked by western standards. In Chinese cuisine it is considered correct to have "rare" chicken as the meat is smoother but the tinge of red blood in the bones may not be welcomed by those from overseas.
A wide range of dried preserved foods are on display from Chinese sausages, which are salted and air dried, the compressed whole ducks and of course the well known Chinese salt fish.
Try eating in the Cooked Food Centre, you'll find the types of authentic street food that originally was served from market stalls, but is now moved into the licensed and hygienic environment of this government run hall. It's a popular place for breakfast, lunch and afternoon snacks.